Welcome to Mudgeeraba Aquatic Centre
Based in Mudgeeraba QLD, the Mudgeeraba Aquatic Centre offers you a range of health and leisure facilities and services. The centre features an outdoor heated 25m pool, indoor program pool and an outdoor leisure pool with water features.

Our six-lane, outdoor heated 25m swimming pool is perfectly designed to be used by lap swimmers of all ages and speeds, this pool can be used by people simply looking to cool off on a hot day. Heated to 33°C our indoor program pool is the ideal environment for rehabilitation or assisting people who are suffering or recovering from sore muscles, stiffness and arthritis.

Enjoy a day of casual swimming, aqua aerobics classes or learn to swim through our new and effective swimming and water safety program, GOswim. We look forward to welcoming you to the centre and providing you with the best health and leisure experiences possible.
Opening Hours
Monday, Wednesday & Friday
5:30am - 6:00pm
Tuesday & Thursday
6:00am - 6:00pm
Saturday
6:00am - 5:00pm
Sunday
9:00am - 4:00pm
Discover Mudgeeraba Aquatic Centre
Take your first steps with a Free 7 Day Pass and see what Mudgeeraba Aquatic Centre has to offer you!
08:01PM
16 Dec 19 - 20 Dec 19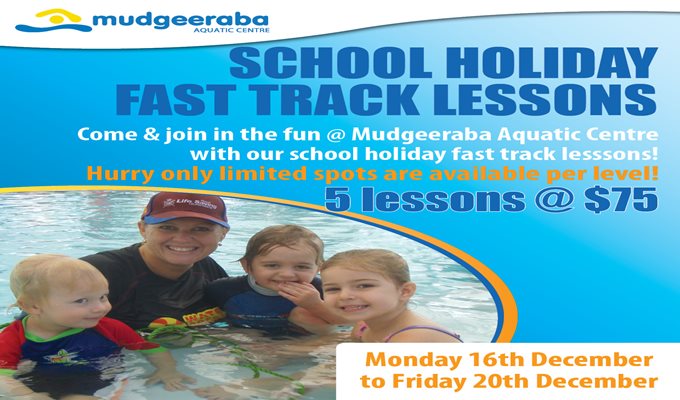 Fast Track Program - December
Aquatics
Join our december Fast Track Program!

This intensive program will fast track your children's swimming abilities to much higher levels!
Aquatic Lessons
Mudgeeraba Aquatic Centre offers many different swimming programs for all ages and all levels.
Men's Health Week
This week is used to highlight the issues surrounding the status of means health. This is important to highlight as the health status of males is typically poorer than that of females. There is a sigma surrounding men's health which leads to men being less likely than women to seek out mental health services, despite the rate of mental health disorders being similar.
GOswim Collectable Stickers!
Over the winter months our little swimmers will be able to collect a set of 8 exclusives GOswim Little Champion stickers. Attend your weekly swimming lesson to collect your sticker, collect them all to go in the draw to WIN!
Take charge of your overall wellness
A person's wellness is made up of much more than just physical health, exercise or nutrition. It encompasses multiple aspects of everyday life including physical, mental, and personal well-being. To achieve overall wellness a person must actively make choices that lead toward a healthy and fulfilling life. Find out more!
Keep Active this Winter
It is a known fact that when winter comes around and the temperature starts to drop, so does the motivation to get out and be active. Plenty of excuses start to circle around in your mind as to why you should just stay in bed for that little bit longer. Well, we are here to tell you why it's important to keep your activity levels up during winter, and to provide you with some great tips on how to make it easier for yourself!